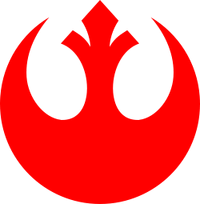 The Rebel Insignia or Marek family crest is the primary logo for the Rebel Alliance.
For centuries the Marek family crest was the symbol of the two fallen Jedi, Galen & Kento.
The Rebel Insignia makes a small apperance in The Force Unleashed video game as the chosen logo for the new Alliance to Restore the Republic.